Oddsmakers On Who Will Live And Die In Avengers: Endgame
Oddsmakers have Captain America as the first person to die in Avengers: Endgame at a +100.
Iron Man comes in next with +150 odds.
Black Widow is projected as the least likely to die at a huge +1200 odds.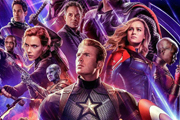 LOS ANGELES – Marvel Entertainment has been telling cinematic stories to the world for over ten years. This includes the hit action flick Iron Man and the less talked about and quickly glazed over Captain America: The First Avenger. These films and over ten more created by team Marvel have grossed millions of dollars at the box office.
With what may be the penultimate conclusion to the wide Marvel cinematic universe Avengers: Endgame comes into theaters April 26th, and with great beginnings come great endings. Even endings for characters. Oddsmakers have laid down betting odds for the characters they believe are most likely to die.
Coming in hot in first-place, bettors have Captain America as the favorite to die first at +100 in Marvel's epic conclusion to a decades-long story. The Marvel team has been closed-mouthed and secretive about what fate our heroes will face in the upcoming movie.
Coming in second is Iron Man at +150 odds. Betting odds courtesy of Bovada. The witty genius in the mechanical suit has been on the front lines in previous Avengers movies, coming face-to-face with their enemies.
Black Widow, the elusive hand-to-hand combat expert is projected at +1200 odds and assumed to be the least likely to die in Avengers: Endgame. In previous Avengers movies, Black Widow mainly fights the smaller, less powerful opponents on the battlefield along with Hawkeye giving her a potential safe distance away from those that could end her.
While these entertainment betting odds are merely projections with little information to go on due to Marvel keeping things locked and keyed, bettors are still sure to take their chances at sportsbooks. Avengers: Endgame is projected to be the highest grossing Marvel movie of all time, and possibly have the biggest opening weekend of all as well. With the film having good chances of blowing James Cameron's Avatar out the water.
Top Online Sportsbooks For Entertainment Betting