2016 Presidential Election Betting Lines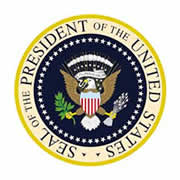 It has been four years since Barack Obama won a second term as President of the United States. This coming November, the American people will elect a new leader. With Election Day rapidly approaching on November 5, now is the perfect time to bet on who will be the next US President. The latest presidential betting odds can be found right here on this page. Since Barack Obama is ineligible for a third term, it means that we will have fresh candidates to wager on. Who will become the Leader of the Free World? Will the American people choose to continue along the path of Barack Obama and elect a Democrat? Or is it time for a Republican to take the helm?
No matter what happens, 2016 is looking to be one of the more exciting and, dare we say, even bizarre political races in recent history. You will find all of the latest presidential betting odds right here on Entertainmentbettingodds.com, along with the websites that make the odds. We have all the information on each candidate who is running and what his or her chances are of winning. Be sure to visit this page frequently, as the odds are sure to change rapidly as we get closer and closer to Election Day.
Learn More About The 2016 Presidential Election ~ How To Bet On The Next U.S. President
How To Wager On 2016 Presidential Election
The sportsbooks listed on this page each provide a variety of aspects of the 2016 presidential election on which to wager. These include who will be the nominee for each party, which party will win the election, and, of course, which individual candidate will become the next President of the United States. This variety of options only adds to the fun and excitement of presidential betting.
Individual Odds To Win The 2016 Presidential Election – This is probably the biggest and most important event to bet on in any presidential election. The individual candidate odds are usually posted early, and as the race heats up, many candidates will drop off the list, leaving only a few presidential hopefuls. Once the debates start happening, you can expect to see some quick and radical shifts in the odds.
Party Odds To Win The 2016 Presidential Election – Most online sportsbooks offer betting lines on which party will win the election. It usually comes down to Democrat vs. Republican, although every now and then an independent candidate will make the cut. These odds are posted year before the actual election, but the odds usually do not start to change drastically until about nine months before the election.
Nominee Odds – Betting odds for who will become the eventual nominee for each party are popular in the early stages of the presidential election. Sometimes a party will have a dozen or more potential nominees, and other times a party might only have a few. Either way, the odds shift very fast, as potential nominees start to drop like flies as the season progresses.
Primary Odds – Some online sportsbooks have odds on which candidates will win the primary of each state. There is a lot of winning potential with primary odds, as there are fifty states, which means you have plenty of chances to make a wager.
Swing State Odds: Also available at online sportsbooks are swing state odds. Since swing states do not have a large majority of either Democratic or Republican voters, it means that they could possibly go for either party, especially when you take into consideration all the independent voters. Recent swing states include Florida, Colorado, Nevada, Virginia, Ohio, New Hampshire, and Iowa.
2016 Presidential Election Betting Odds & Latest News
While we all prepare for the highly anticipated First Presidential Debate scheduled to take place on September 26th, let's recap where we stand right now. The hot topic of discussion recently has been on democratic presidential candidate, Hillary Clinton, and her recent health issue. During a 9/11 memorial ceremony, Clinton began to feel overheated and as she was moving towards her exit vehicle she was noticeably unstable and wobbled back and forth. It was later diagnosed that she had pneumonia and dehydration was the likely cause of her uneasiness. Her doctor is on record saying that she is "recovering well" and will be back to 100% soon. She better hope so too, as I'm sure Donald Trump will pull no punches when discussing her health concerns at the debate.
The drama surrounding the 2016 Presidential Debates didn't begin there, however. Donald Trump created headlines a while back after he expressed his dissatisfaction that the debate schedule coincides with two NFL games. Of course, he blamed this on the Democratic Party "trying to rig the debates", though the schedule is created a year in advance by a nonpartisan committee. Even with his antics, it is fair to say that both contenders continue to shine in the worst way when placed in the national spotlight. Secretary Clinton still faces the possibility of an indictment from the Department of Justice, and even though the FBI recommended that no charges be brought against her, that isn't as set in stone after the FBI was recently served by US congress. This was due to the FBI's continued refusal to hand over all then information related to Hillary Clintons email scandal. She has also burned the bridge with a majority of Bernie supporters by not only collaborating with the DNC to sabotage his campaign but also by taking former chairwoman Wasserman-Shultz onto her campaign directly after she resigned from the DNC. On the flip side, the GOP has a candidate who not only maligns his competitors, fellow party members, and prominent members of society - like The Pope - in the same breath, but who also creates anger and controversy nearly every time he opens his mouth.
Currently, Secretary Clinton has the slightest advantage over Mr. Trump and therefore has the better odds. Hillary stands at -190, while Donald has upped his odds to +170, but as the race to the white house continues over the next couple of months, those numbers are sure to change. Sites like Bovada and BetOnline are sure to have the most up to date odds on this year's election, so make sure to visit the sportsbooks on a regular basis.
Online Sportsbooks That Feature Betting Odds For 2016 Presidential Election
Many of the best online sportsbook feature presidential betting odds. As a matter of fact, the two internet betting sites listed below both already have odds for who will become the next President of the United States and which party will win the White House in November. The odds on these sites are accurate and are constantly being updated, so be sure to check back regularly to see where things stand.
Bovada Sportsbook
Bovada - Features A Full Section Of Political Betting Odds
Find the latest odds on the upcoming presidential election at Bovada. Whether you are a Democrat, Republican, independent, or none of the above, you're sure to have fun wagering on who will be sitting in the White House come November. Bovada is a safe and legal site that has everything you need to wager on the presidential election, including a great selection of deposit and payout methods, a variety of odds and wager types, and bonuses for everyone!
Signing up for a Bovada account is a simple process that can be done in just minutes. When you make your first deposit, you will receive the 50 percent Welcome Bonus, which is good on all first deposits up to $250. Your bonus will be available for use once you meet the 5x rollover amount, which is the total of your deposit plus the bonus. To receive the 50 percent Welcome Bonus, simply sent the promotional code to Bovada along with your deposit. You can use your bonus to wager on anything in the sportsbook, including politics.
BetOnline Sportsbook
BetOnline - Political Betting Odds At BetOnline Can Be Found Year-Round
The most current and accurate odds can be found at BetOnline, one of the oldest and most widely recognized online sportsbooks for US players. BetOnline was one of the very first online sportsbooks, having first started in 1991 before betting sites became ubiquitous. Now, more than 25 years later, BetOnline continues to break new ground in terms of innovation and modernity, as evidenced by their state-of-the-art design and cutting-edge features.
Speaking of innovation, BetOnline now has a revolutionary new mobile betting feature that lets you bet on the presidential election from your mobile device. It's the perfect way for the politically savvy, on-the-go bettor to keep up with the latest presidential odds. You can sign on to the BetOnline sportsbook from anywhere in the world. If you are not able to watch a debate, for example, you can still check BetOnline's latest presidential odds. Mobile betting is convenient, free, and safe. It is one of the coolest new ways for sports betting
Top Online Sportsbooks For Betting On The 2016 Presidential Election
More About 2016 Presidential Election
2016 Presidential Candidates
Despite media attention being almost wholly devoted to the two major party candidates, there are several candidates for the 2016 Presidential Election. This list includes, of course, the republican and democratic nominees, but also the candidates for the libertarian party and the green party. We've also included some voter favorites who may or may not appear on the ballot come November, and each candidates odds of becoming the next President Elect./
Hillary Clinton: The newly named Democratic nominee has had a long career in politics, spanning the last 25 years. Secretary Clinton was born Hillary Rodham on October 26, 1947, in Chicago. She earned her BA from Wellesley College in 1967 and graduated from Yale Law School in 1973. She married Bill Clinton in 1975, who eighteen years later became President of the United States. After her time as FLOTUS, Clinton served as a Senator in New York from 2001-2009 and held the title of Secretary of State under Barack Obama from 2009-2013. Secretary Clinton has chosen the junior Senator from Virginia, Tim Kaine, as her VP.
Donald Trump: The Republican nominee for president is a billionaire real estate developer and reality TV host. Born Donald John Trump in Queens, New York on June 14, 1946, Trump has never held political office. His achievements in the business world include founding Trump Entertainment Resorts, which includes a number of hotels and casinos. He has written four books and was the host of TV's "The Apprentice" and "The Celebrity Apprentice" from 2004 to 2015. He has considered running for president several times, but this is the first year he has followed through on those thoughts. Mr. Trump has chosen Indiana Governor Mike Pence as his running mate.
Gary Johnson: The candidate for the libertarian party has made a name for himself as a "libertarian-minded conservative". Born Gary Earl Johnson on January 1, 1953, in Minot, North Dakota, Mr. Johnson has had successful careers in both the world of business and politics. Johnson graduated with a BS from the University of New Mexico in 1975. A year later, he started a construction company that has since bloomed into a multi-million dollar business. Johnson made his first appearance on the political stage with his successful gubernatorial bid in 1994. He served as New Mexico's Governor from 1994-2002 and ran for president in both 2000 and 2012. Running on the independent ticket, Gary Johnson's name will appear on the ballot in all 50 states.
Jill Stein: Dr. Jill Ellen Stein is the 2016 Green party presumptive nominee. She is a physician and former professor of medicine at Harvard Medical School. Born May 14, 1950, in Chicago, Dr. Stein received her BA from Harvard University in 1975, and her MD from Harvard Medical School in 1979. She has never held political office but has run for several positions in state politics under the Green-Rainbow party ticket, including a bid for a seat in the Massachusetts' House of Representatives and two gubernatorial bids in 2002 and 2010. Currently, Dr. Stein's name only appears on the ballot in 36 states.
Bernie Sanders: The Senator from Vermont has had one of the most consistent careers in recent American politics. The Independent candidate was born in 1941 in Brooklyn, New York. He considers himself a Democratic Socialist and was heavily involved in the American civil rights movement in the 1960's. Sanders received his BA from the University of Chicago in 1964. He served as mayor of Burlington, Vermont, from 1981 to 1989. He served as a US Congressman for 16 years and is currently a Senator, a position that he has held since 2006. He is America's longest-serving independent Congressman. Although he has stated that he will not run for president without the DNC's nomination, many #BernieOrBust voters are still holding out hope that his name will appear on the ballot come November.
Paul Ryan: Paul Ryan is the 54th and current speaker of the United States House of Representatives. Born Paul Davis Ryan on January 29, 1970, in Wisconsin, Speaker Ryan earned two BA's from Miami University in 1992, in Economics and Political Science. He is a member of the Republican Party and has served as the representative for District 1 since 1998. Ryan was Mitt Romney's pick for Vice President during his 2012 campaign. While Speaker Ryan did not run during the primary season and the GOP has officially named their nominee, some still think there is a chance for his name to appear on the ballot in November.
Joe Biden: The current Vice President of the United States has had a career spanning decades. Vice President Biden was born Joseph "Joe" Robinette Biden, Jr on November 20, 1942, in Scranton. From 1972 until 2008, he served as a United States Senator. In 2008, he was chosen as Vice President by President Barack Obama and has served in that capacity since. Joe Biden earned two BA's from the University of Delaware, in History and Political Science in 1965, and earned his JD from the Syracuse University of Law in 1968. VP Biden has not officially announced his candidacy for the 2016 presidential race, but many speculate that if Secretary Clinton is indicted, he will take her place as the Democratic nominee.
Mitt Romney: Former Massachusetts Governor Mitt Romney is currently the leader of the #NeverTrump movement. Born Willard Mitt Romney on March 12, 1947, the Detroit native has made several unsuccessful bids for the presidency in the past, most recently in 2012. Mitt Romney is a member of the Republican Party and has been in the news this election season not because of another presidential bid, but because of his outright objection to another candidate – Donald Trump. While he has stated that he has no intentions to run in the 2016 election, some still look to him as a long shot candidate. It is more likely, however, that Romney will throw his support and official endorsement onto Gary Johnson's campaign, which would throw a very interesting wrench into the two party system.
The current odds on all presidential candidates:
Hillary R. Clinton: -350
Donald J. Trump: +300
Bernie Sanders: +2500
Paul Ryan: +6600
Joe Biden: +8000
Gary Johnson: +10000
John Kasich: +25000
Jill Stein: +50000
Mitt Romney: +50000
For odds on a candidate vs the field and several over/unders, check out BetOnline and Bovada sportsbooks. These books will give you the most up to date odds and lines during the upcoming presidential election.