Betting Odds For The Voice

Wagering on the outcome of reality shows and other TV entertainment is becoming big business at online sportsbooks. Sites that traditionally allow wagers on sporting events are adding reality TV show and other contest bets. The Voice is an internationally syndicated singing contest / reality TV hybrid that pits singers against one another. Odds for The Voice are formed early on in the show's season. On this page, we are going to outline the different ways of betting on The Voice, the odds that are available for wagering, as well as the best sites for making bets on The Voice. Keep it clicked here to learn all you will need to make money on this season!!!
Learn More About "The Voice" ~ Where To Bet On The Voice Online
The Voice Season 6 Betting Odds & Latest News
The Voice continued this week with its blind audition rounds. By Tuesday night Usher and Shakira had picked up nine singers each with Adam Levine with seven. Blake Shelton ended the week with six members on his team that included Megan Ruger, a country singer Usher was also interested in. Usher did make up for his loss when he picked-up Morgan Wallen, an artist who was previously offered a record contract in his younger years.
Tuesday night's episode also introduced singer Emily B. who chose to sing "Wicked Game". Emily joined Team Shakira after Blake turned his chair. All four turned their chairs for singer Audra Mclaughlin who impressed with her rendition of "Angel From Montgomery". Mclaughlin was quickly charmed by Blake, joining his team. The final week of The Voice blind auditions kick off Monday at 8 p.m. on NBC.
How To Wager On The Voice
Odds to Win The Voice - Odds for The Voice become available during and immediately after the very first show. Contestants on The Voice sign their first songs and oddsmakers get busy determining who are the likely winners, the longshots, etc. Odds are then revised throughout the season, as some competitors thrive will others begin to falter. Unlike bets on shows like American Idol, all the wagering odds for The Voice are broken down by each specific contestant, meaning you place bets on what contestant (or contestants) you think will win the contest. You can wager on The Voice right up until the show's winner is announced - which is good because odds for the show change after individual performances and judgements.
Prop Odds for The Voice - Like sports betting, prop bets exist for all kinds of entertainment and reality TV, including prop betting on The Voice. Head to head prop betting is the most common form of this wager, which includes all bets that don't focus on the overall winner of the show. Weekly head-to-head props are listed by different sportsbooks, allowing you to bet on which of just two contestants will perform better in the eyes of the judges.
Online Sportsbooks That Offer Betting Odds For The Voice
With more and more Internet sportsbooks offering odds for betting on reality TV, it's important to know which sites offer the widest variety of wagers and the best deposit bonuses. We've mined the world's lineup of sportsbooks that allow betting on The Voice and have picked out the two best options for people who want to bet on this popular reality TV show.

Bovada - Leader In Betting On The Voice When In Season Plus New 50% Match To $250 First Deposit
Aimed at the massive US entertainment betting market, Bovada makes a special offer to first-time depositors. You are eligible for a deposit match of 50% worth up to $250 when you make your first deposit to the site's cashier. Bovada has a wide range of The Voice betting varieties, and since The Voice is massively popular in America, it's no surprise that prop bets and all sorts of other wagers are available for customers who want to wager on the outcome of this popular singing contest TV show.

BetOnline - Lifetime Bonuses With 25% Match Good To $900 ~ Features Weekly Odds For The Voice
BetOnline is best known as a sports betting site, but their entertainment betting variety is just as strong. One cool feature of BetOnline is the lifetime deposit match bonus offer - you can get a 25% deposit match worth up to $900 on each of the deposits you make for the life of your membership, easily one of the best deposit match offers of all entertainment betting sites. Plus, BetOnline keeps their odds up to date so that you are always betting on lines based off of the latest happenings.
Top Online Sportsbooks For Wagering On The Voice
Rank
Top Betting Sites
New Player Bonuses
Rating
Visit

1

Bovada Sportsbook

50% to $250 On First Deposit

2

BetOnline Sportsbook

25% to $900 On Every Deposit

3

5Dimes Sportsbook

50% to $200 plus 20% to $500

4

SportsBetting.ag

25% to $900 On Every Deposit

5

100% to $200 On First Deposit
The Voice is one of the younger entertainment reality shows on TV, just entering its third season in the USA. The show uses a unique "blind" juding method whereby the judges don't look at the contestants when they sing, concentrating on "The Voice." The show is famous for having lots of celebrity guests and judges, including Cee Lo Green, Adam Levine, and Christina Aguilera. The Voice is quickly catching up on similar reality contest shows in America, which is no doubt responsible for the larger number of online sportsbooks offering odds on the show.
The Voice Judges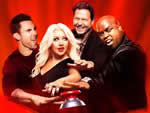 Cee Lo Green, Adam Levine, country star Blake Shelton, Usher, and Shakira are the main judges on The Voice. Usher and Shakira have joined on for the 4th season of the Voice, bringing in a fresh new perspective and taste for talent. Each season, the singers are categorized into groups led by a single vocal mentor, another unique feature of this particular reality entertainment show. Each judge has had success in their respective genre's and all know what it takes to form and mold a headliner. In season 1, it was Adam Levine that was the victorious coach/judge but season 2 belonged to Blake Shelton.
Past Winners
The Voice has only had two previous winners: Javier Colon won season one and Jermaine Paul won the second season. Neither of this show's winners has had anywhere near the success of the winners of contests like American Idol, thanks to the fact that The Voice is a newer show with a lot less promotional backing. Javier Colon eventually turned down his contract offer, which he was offered for winning season one, while Jermaine Paul has only released one single that charted in the Billboard Top 100, his show-winning rendition of "I Believe I Can Fly," originally recorded by R Kelly.
Season 1:

Javier Colon

Season 2:

Jermaine Paul

Season 3:

Cassadee Pope

Season 4:

Danielle Bradbery