Dancing With The Stars Betting Odds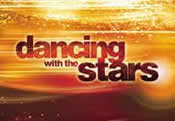 Sportsbooks on the Internet don't just focus on sports. You can bet on the outcomes of any number of things at some online betting sites, including reality TV contests like Dancing With The Stars. Odds for Dancing With The Stars are formed before the show airs and during the run of the show, and at some Internet sportsbooks, you can place wagers on the show's episodes just as if you were betting on an NFL game or a soccer match. Let's look at the betting lines available for Dancing With The Stars, the different ways you can bet on this reality program, and the best online sportsbooks for placing bets on entertainment and reality TV.
Learn More About "Dancing With The Stars" ~ Current News & Betting Lines For Dancing With The Stars Season 18
Dancing With The Stars Season 19 Betting Odds & Latest News
Dancing With The Stars premiered in its 19th season last night on ABC. The new cast of 13 celebrities proved to be entertaining and impressive. The 71-year-old designer Betsy Johnson is one to watch. She may not win the competition, but she's light on her feet and did great dancing to Madonna's Material Girl. Olympian Lolo Jones surprised many when she had a tough time in her first dance. Down on herself, Lolo repeatedly told Erin Andrews about how much she practiced in anticipation of her ballroom debut.
There was no doubt that Alfonso Ribeiro of the Fresh Prince of Bel Air would be a top contender. Ribeiro came out ready to impress with his professional partner Whitney Carson, and he did, as he was easily one of the best acts of the night. Actress Lea Thompson is also one to watch out for this season. Thompson performed a foxtrot with ease. Dancing with the Stars will return next week on Monday night in its second round of the competition.
Odds To Win Dancing With The Stars 19 - found at Bovada 9/15/2014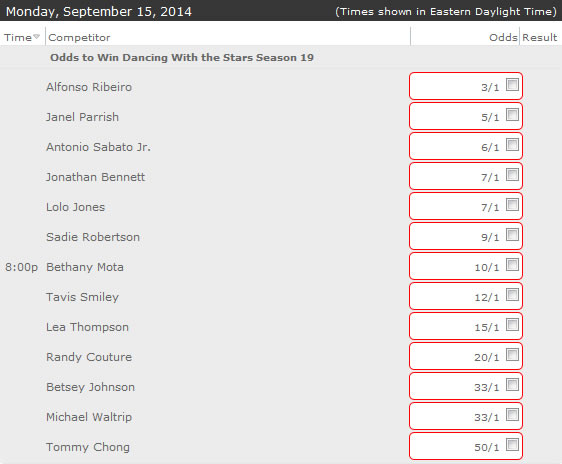 Best Places To Bet On Dancing With The Stars Online
The number of online sportsbooks that offer TV show odds is growing, as more and more people experience the excitement of betting on reality and other contest shows. Here are our favorite sportsbooks for placing wagers on Dancing With The Stars. The staff here at www.EntertainmentBettingOdds.com have used these sites and can testify to their quality.

Bovada - Preferred By American Bettors For Placing Wagers On Dancing With The Stars / 50% to $250 Bonus
Bovada is designed specifically for the North American gambling market, and since Dancing With The Stars began as a US television series, it's no surprise that Bovada has lots of odds and wagering types for this reality contest dancing show. Your first deposit to Bovada makes you eligible for a 50% deposit match bonus worth up to $250. If you enjoy betting on reality programming and other forms of entertainment, check out Bovada's wide range of entertainment odds and betting varieties for Dancing With The Stars and other things like political odds.

BetOnline - Odds For Betting On Dancing With The Stars Available Right Up Until Start Of ABC Broadcast
This worldwide sports betting giant isn't all about football, basketball, and soccer. BetOnline contains a huge list of entertainment betting opportunities, including a variety of different ways to bet on entertainment and reality shows. As an added bonus, all of your deposits at BetOnline, for the life of your membership, are eligible for a 25% match up to $1,000, one of the bigger sports and entertainment betting bonuses in the industry. You can then use that money to wager on reality tv shows or put even more on your existing bets.
Top Online Sportsbooks For Wagering On Dancing With The Stars
Rank
Top Betting Sites
New Player Bonuses
Rating
Visit

1

Bovada Sportsbook

50% to $250 On First Deposit

2

BetOnline Sportsbook

25% to $1,000 On Every Deposit

3

5Dimes Sportsbook

50% to $200 plus 20% to $500

4

SportsBetting.ag

25% to $1,000 On Every Deposit

5

100% to $200 On First Deposit
How To Wager On Dancing With The Stars
Odds to Win Dancing With The Stars - Odds for Dancing With The Stars are usually put out within hours of the show's contestant lineup being announced. Since the people who compete on DWTS (as the show's fans refer to it) are already fairly well-known, many bettors will have an early opinion on who is or is not likely to win the show. Odds are then revised throughout the season, as some contestants are eliminated and others turn in top-notch performances. Unlike betting on some reality TV contests, odds released before the season airs are generally odds for specific contestants to win, rather than odds on the most likely male contestant or female contest, etc. As the season progresses, the sportsbook alters their odds based on contestant performances, so make sure and watch the lines as the show nears its finale.
Prop Odds for Dancing With The Stars - Dancing With The Stars allows for prop bets, just like other types of gambling you do at online sportsbooks. A prop bet is any wager you place that goes outside the lines of the outcome of the show overall. On Dancing With The Stars, the most common prop bets are head-to-head competitions between contestants - you place a DWTS prop bet by wagering which of two contestants will make it further in the contest.
DWTS started in the summer of 2005 in the US. These days, Dancing With The Stars exists in TV markets all over the world - this reality contest format is just that popular. The show has multiple seasons per year, which sets it apart from other entertainment / reality hybrids, usually one show in the fall and one in the spring. Dancing With The Stars is one of ABC's most popular reality shows, though in recent years the Nielsen ratings have been slipping. Still, online sportsbooks that offer entertainment betting odds understand the cult following the show has, and you can almost always find a range of bets at online sportsbooks for Dancing With The Stars contests.
Dancing With The Stars Judges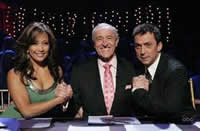 The judges on Dancing With The Stars are not like the judges of other entertainment betting options - none of them could be called celebrities before the show started airing. Len Goodman, Bruno Tonioli, and Carrie Ann Inaba are now well known among fans of the show, since they've judged every season since the show's inception. All professionals from the dancing industry, the three judges of DWTS are familiar faces to reality TV fans, very serious about their judgement of celeb dance moves, and are sometimes involved in their own prop bets. For example, some sites that offer Dancing With The Stars wagers provide odds for props about which judge will give the lowest average score, the highest average score, etc.
Past Winners - Dancing With The Stars
The most famous winners of Dancing With The Stars are probably the numerous athletes who have claimed the title. Since dancing is an athletic event in and of itself, it's no surprise that names like Emmit Smith, Apollo Ohno, and Kristi Yamaguchi appear on the DWTS winner's list.
Here's a list of all of the show's winners, in order:
Season 1:

Kelly Monaco

Season 2:

Drew Lachey

Season 3:

Emmit Smith

Season 4:

Apollo Ohno

Season 5:

Helio Castraneves

Season 6:

Kristi Yamaguchi

Season 7:

Brooke Burke

Season 8:

Shawn Johnson

Season 9:

Donny Osmond

Season 10:

Nicole Scherzinger

Season 11:

Jennifer Grey

Season 12:

Hines Ward

Season 13:

JR Martinez

Season 14:

Donald Driver

Season 15:

Melissa Rycroft

Season 16

: Kellie Pickler

Season 17

: Amber Riley

Season 18

: Meryl Davis