Betting Odds For American Idol

American Idol was the first of the recent revival in primetime competition and talent shows. Just like with sporting matches, odds are formed for American Idol, both before the season and as the season progresses. In this article, we're going to look at the different odds and ways of betting on America's favorite singing competition show. We'll also show you the best places to bet on American Idol online.
Learn More About "American Idol" ~ Current News & Betting Lines For American Idol Season 12
How To Wager On American Idol
Odds to Win American Idol - American Idol betting comes in a few different forms, with odds presented throughout the Idol season. You can bet on which male is most likely to win, which female is most likely to win, as well as an overall winner even before the show really gets off the ground. As more odds become available, and the show moves through its season, these odds are revised, based on the performance of contestants and taking into account those contestants that are kicked off the show.
American Idol is a special case at most online books that allow Idol bets - the season begins with general odds on who is most likely to win, as well as a lineup of prop bets. As the show progresses specific odds for high-performing contestants are offered. As the field of singers is whittled down, your betting options become limited, and odds go up on fan favorites, while singers who seem less likely to win become cheaper bets. You can bet on American Idol right up to the airing of the show's final.
Prop Odds for American Idol - Just like in the sports wagering industry, you can bet on pop odds for shows like American Idol. Prop bets are any bets that aren't directly related to the outcome of the show. Betting lines are sometimers offered for the performance of judges, such as which judge will be first to vote against the other judges. Sometimes, when American Idol loses a judge, you can even bet on who is most likely to be picked to be the replacement. Prop odds are not always available on TV shows, but with a show as rich in history and competition as American Idol, props are a big part of entertainment betting. Head to head competitions on American Idol are another opportunity for a prop bet - you can wager on which singer will get a bigger audience vote in a head-to-head capacity.
American Idol Season 12 Betting Odds & Latest News
Massachusetts native Angie Miller fought back tears while performing her last song on the American Idol stage last night in the Fox series' results show. America made its decision and after weeks of watching the finalists dwindle, voters decided it was time for the 19-year-old Miller to go. The last minutes of the show came as a shock after watching Miller make through weeks on end of tedious routines.
At one point Miller appeared to have the competition in the palm of her hand, but after Glover and Harrison stepped up their performances, the singer was pushed out of the finales. She chose to sing Colton Dixon's song "Never Gone" before saying goodbye. The competition is now down to Kree Harrison and Candice Glover. Next week the two Idol finalists will return in the last episode of the season with former Idol star Adam Lambert set to perform "a surprise duet" during the finale.
Odds have been released for the final of American Idol Season 12 and it's Glover who is at the top of the list to win it all. A wager on her to win the finale this Thursday is paying out at 10 to 17. But while Harrison might be the underdog, she is set as just over a payout of 1 to 10, going off at 13/10. This means that every $10 wagered on Harrison to win would profit $13. It's been a long journey to this point, and with the elimination of Miller last week, it opened the door for one of these two to win. Both Glover and Harrison have been favorites on the odds at different points this season, so this final duo is no surprise.
And while the majority of the focus on American Idol betting will be on the season finale this week, Bovada has also released new judge prop lines for Season 13. With the announcement that Randy Jackson won't be back, that leaves room for new judges for the next season. Bovada is asking about the first new judge to be named for next year. Selena Gomez (2/1) and Miley Cyrus (4/1) lead the way. But names like Justin Bieber (5/1), Pink (5/1), and even first season's winner Kelly Clarkson (15/1) are on the list.
Selena Gomez 2/1
Miley Cyrus 4/1
Justin Bieber 5/1
Pink 5/1
P Diddy 5/1
J-Lo 7/1
Jimmy Iovine 10/1
Kelly Clarkson 15/1
Current Odds To Win American Idol (found @ Bovada on 05/13/13) - Click To Bet
Online Sportsbooks That Betting Odds For American Idol
Many online sportsbooks offer odds and bets on TV shows, especially reality contest shows like American Idol. We've taken a look at all the sportsbooks on the Internet that offer TV betting odds and found your best options, including only those sites that offer good deposit bonuses for entertainment bettors and plenty of wager styles for TV bets.

Bovada - Often Features Head To Head Betting Odds For American Idol Plus Weekly Odds To Win The Contest
Bovada is the North-American branch of mega gambling site Bodog. When Bodog left the US market a few years ago, it opened Bovada to continue accepting bets from US citizens. When you deposit to make bets on American Idol at Bovada, you can earn a 50% match worth up to $250 on your first deposit. Bovada has a big entertainment betting odds section, including a wide variety of American Idol and other reality bets. As we mentioned above, Bovada commonly is the only sportsbook that offers American Idol head-to-head odds.

BetOnline - Get Bonuses Every Time You Deposit Into BetOnline, 25% Match Up To $900 Each Time
BetOnline is a major player in the worldwide sports betting scene, and their entertainment betting options are numerous. When you sign up for a sports betting account at BetOnline, you get access to American Idol (and other TV show) bets, as well as a 25% deposit match worth up to $900. That offer is good on every deposit for the life of your membership. BetOnline's lineup of props and other wagering forms for American Idol and other reality TV show odds is as extensive as any other online wagering site.
Top Online Sportsbooks For Wagering On American Idol
Rank
Top Betting Sites
New Player Bonuses
Rating
Visit

1

Bovada Sportsbook

50% to $250 On First Deposit

2

BetOnline Sportsbook

25% to $900 On Every Deposit

3

5Dimes Sportsbook

50% to $200 plus 20% to $500

4

SportsBetting.ag

25% to $900 On Every Deposit

5

JustBet Sportsbook

Up To 50% Bonus To $1,250

6

100% to $200 On First Deposit
American Idol ignited a reality contest TV fire that is still going on today. Shows like The Voice, X Factor, and Dancing with the Stars owe everything to Idol's success. It first aired in the summer of 2002, gaining massive Nielsen ratings comparable to the Super Bowl and other major TV events. The show has gone through a long lineup of judges, and produced a number of successful recording careers. American Idol is the gold standard in TV reality contest entertainment, and the show's winners and other contestants get major label support to kick off a career in the recording industry.
American Idol Judges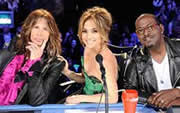 The show opened with three judges who soon became big stars thanks to the show's success: Randy Jackson, Paula Abdul, and Simon Cowell became household names overnight for their parts in judging America's wannabe music stars. In the eleven seasons since, the show has changed judges a number of times, with guest appearances by names like Mariah Carey, Steven Tyler, Jennifer Lopez, Ellen Degeneres, and Kara DioGuardi. Season 12 features a trio of new judges. With Jackson the lone judge left from the original season. He will be joined by Mariah Carey, Nicky Minaj, and Keith Urban. All of these judges span a wide arrray of audiences and fans, as the show hopes to bring back a renewed vigor among the fan base for a fresh new take from different genres of the music industry.
Past Winners - American Idol
The most famous winners of American Idol are no doubt Kelly Clarkson, Ruben Studdard, and Carrie Underwood. Of the three, Underwood's record deal has produced the most in terms of album sales; to date she's sold more than 13 million albums worldwide.
What's interesting about American Idol is the fact that often the losing contestants end up releasing albums that perform very well on the Billboard charts. Jennifer Hudson, who took seventh place in the show's third season, has gone on to win both an Oscar and a Grammy.
Here's a list of all eleven American Idol winners by season.
Season 1:

Kelly Clarkson

Season 2:

Ruben Studdard

Season 3:

Fantasia Barrino

Season 4:

Carrie Underwood

Season 5:

Taylor Hicks

Season 6:

Jordin Sparks

Season 7:

David Cook

Season 8:

Kris Allen

Season 9:

Lee DeWyze

Season 10:

Scotty McCreery

Season 11:

Phillip Phillips